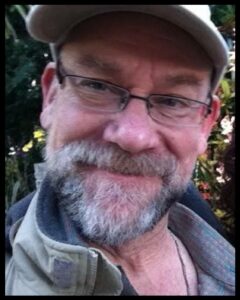 Your Acupuncturist
After graduating honors in Biology and Chemistry from Antioch College in Yellow Springs Ohio, I began Medical School at the University of Virginia School of Medicine in 1988.  Although it was a fascinating time, I found that I was drawn to Traditional Chinese Medicine and moved to Los Angeles where I enrolled in the Master's of Science degree program at Samra University.
Since receiving my Masters of Science in Oriental Medicine (MSOM), I have practiced in California, Massachusetts and Virginia.  Although I am trained and licensed to treat all disorders and diseases, I have a specialty interest in treating infertility and have had a specialty practice in Infertility Medicine since 2008.
I am currently licensed in the Commonwealth of Virginia to practice Acupuncture and Traditional Chinese Medicine, and am board certified as a Diplomat of Oriental Medicine (DOM) by the National Certification Commission for Acupuncture and Oriental Medicine (NCCAOM).  I have extensive post-graduate specialty study in the treatment of infertility.  I have also done advanced post-graduate study at the New England School of Acupuncture.  Additionally I have been trained in the specialty of Facial Acupuncture (Acupuncture Face lift), as well as the NADA (National Acupuncture Detoxification Association) protocol for substance abuse support and detoxification.
I am a nationally registered medic/EMT and have spent several years over the decades working as such.  As an undergraduate I worked in two separate research labs at VCU Sanger Hall where respectively I conducted research into chemical senses (taste neurophysiology), and opiate mechanisms of pain modulation, and have been published in two journal articles. I also spent six months at the NIH in Bethesda in the lab of a Nobel Laureate Physician that researched Spongiform Encephalopathies such as Kuru, Parkinson's and Alzheimer's Disease, and in 1982 was one of the few laboratories beginning investigation into the then newly recognized AIDS virus.
Every fertility client is unique.  I consider each client's history, prior experiences and circumstances before deciding upon a treatment plan. I attribute the success that I have to my depth of understanding of each client, and to the effort that I put into each and every treatment.  I use all the tools of Traditional Chinese Medicine to achieve the excellent results that are typical of my clients.
I will work with you to create a treatment plan unique to you, and will provide information to help you conceive and achieve a healthy full term pregnancy.  I love bringing new life to hopeful families.
I am located in Cary Court in Carytown, Richmond.  The towns and cities convenient to my office include Richmond, and the towns of Henrico County and the surrounding areas.
What To Expect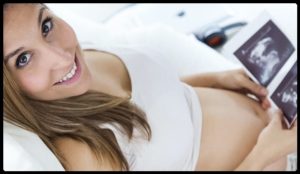 Your first visit is special because this is when I get to know you and find out in detail what's going on with you, and what you want to accomplish with Traditional Chinese Medicine (TCM). During this meeting I will make an "constitutional" assessment and diagnosis, and will design a treatment plan for you specifically. Following this you will receive your first treatment which may include any combination of Acupuncture, Moxabustion, Cupping, and Tui Na massage. First visits rarely take less than two hours depending on the history and complexity of your condition. Follow-up visits routinely take between an hour and ninety minutes.
Acupuncture points are located all over the body, although the most commonly used points are on the arms between the elbows and the hands, on the legs from the knees to the feet, on the abdomen between the umbilicus and the lower belly and on the lower back.  Below is a photograph that illustrates typical points used on the abdomen and lower back for treating infertility.  Four to eight points are chosen depending on your Traditional Chinese Medical diagnosis.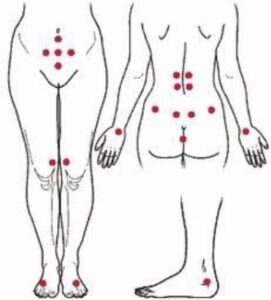 Please bring loose fitting comfortable clothing that can be adjusted up and down the limbs easily.  Short sleeved tops and short pants are the best.  The office is heated, the acupuncture table has a built-in heater and I have plenty of linens and heated blankets to keep you warm if you're easily cold.
Prior to your first visit please print, complete and sign the Patient Forms prior to arriving.  These forms are available on this website on the "Patient Forms" page.
Be sure to have a meal within two hours prior to your treatment.  Acupuncture doesn't work as well with a hungry stomach.
Course of Treatment
Acute and recently occurring conditions require fewer treatments, and chronic conditions or those that are allowed to linger without treatment require longer courses. Infertility typically is a chronic condition that on average requires two to six months to produce a stable pregnancy if used without Assisted Reproductive Technologies (ART).  If Acupuncture is used with ART, one to three cycles usually produce a viable pregnancy.  It is strongly advised that you continue with treatments at least through your first trimester, and ideally until you are due if your circumstances allow.
The effects of acupuncture are cumulative.  Acupuncture is not realistically a single visit cure. Although most women do well with a single treatment per week, I recommend that a woman receiving treatment for infertility come twice a week in order to see results sooner, if her schedule allows.  Conditions that are treated two times a week show results more quickly, and treatments that adhere to a schedule of regularity are much more effective than treatments which vary from week to week.
Acupuncture needles are extremely fine, much finer than needles used for injections or to draw blood. If you have initial anxiety about acupuncture, please let me know.  You will not have been the first.  Licensed Acupuncturists are trained and certified in sterile procedures, and all needles are one-time use only and then disposed of.  Often the needles are hardly felt and it is rare when there is noticeable discomfort. During your session, needles will be precisely placed according to your diagnosis and treatment plan.
Side effects are rare. The most common is slight bruising at the site of needling. Some people experience sleepiness or feel light-headed at the conclusion of a treatment.  This is usually due to a profoundly relaxed state and lowered blood pressure.
Moxabustion, or "Moxa" is the practice of burning the Chinese herb known as Ai Ye, and applying the radiated heat to specific areas on the body.  The preparation I use is smokeless.  This procedure often takes place while acupuncture needles are in place. It is universally experienced as a pleasurable sensation of warmth.  Moxa may be used if your constitutional diagnosis includes cold.
Tui Na Massage uses many techniques that may include brushing, kneading, rolling, pressing, percussion, scratching, scraping and rubbing.  Tui Na Massage is used to move "Stagnant Qi and Blood" within the body and meridians.
Below are links to two excellent WebMD articles describing aspects of what you can expect, in non-technical language.
Please feel free to call or email me to discuss your unique situation. Use my Contact Us page to get in touch, or call 804-938-6457.
I look forward to meeting you!  ( :
Porter Nilsson, Lic Ac, DOM, MSOM