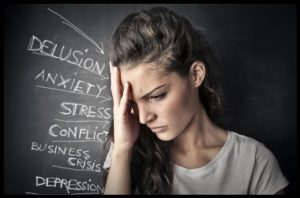 It has been widely demonstrated in humans, that stress adversely effects fertility.  Highly stressed individuals have increased difficulties with ovulation, fertilization, implantation and a healthy full-term pregnancy.  Women attempting conception are experiencing stress in their day to day lives from the challenges of life, work and responsibility, and for women trying to have a baby, the concern that they will not be successful.  Stress affects fertility in a profound way but is most often under-appreciated.  Stress is Nature's own birth control method. But fortunately stress can be fairly easily modulated in the office setting using acupuncture, heat therapy and massage.
In a large federally funded study, it was demonstrated that women who were trying to conceive that participated in stress-reduction had a 55% "take home baby rate" compared to 20% in women who did not participate.
Traditional Chinese Medicine is particularly effective at reducing the chronic or the acutely stressful state of mind.  An on-line article published by the Texas Fertility Center, a Western Medical Treatment Center that incorporates Acupuncture into their protocols, explained the mechanism by which stress can inhibit a woman's capacity to conceive, and goes on to suggest that acupuncture relieves stress by stimulating the release of naturally occurring endorphins, our "happy" hormones.
There is a basic demonstrable biological axiom that women's bodies (and all mammals for that matter), are physiologically impacted by their environments, and are less receptive to ovulation, fertilization, implantation and maintenance of pregnancy while experiencing unrelieved stress.
Modern causes of stress are complex and varied, but our bodies still react to stress in any form, in the same way as our progenitors.  If you're stressed, your genetic memory signals to your body that it is not a safe time to be pregnant, and your body will take steps to delay pregnancy until life becomes less stressful.
And so if you've decided that you want to have a baby and are feeling a lot of stress, it's important that you receive stress reduction treatment and make efforts in your daily life to reduce stress.  A little bit goes a long way.  See your acupuncturist once or twice a week to reduce your stress.  And please see below the section "Extra Credit: 13 Things You Can Do".
Another way some women signal to their bodies that times are tough, is by over-exercising and under-eating.  Throughout humanity's history, if we were having to run excessively, it was probably because we were being threatened.  Gentle to moderate exercise is great when you're trying to conceive and throughout pregnancy.  But running as if your life depended on it is sure to give your body the wrong idea, even if it makes you feel good.  Take a break to have a baby!  Once you do, you're sure to be lifting, carrying, and running like you were training for the Navy Seals, and you won't even need a gym!
Likewise, throughout humanity's history, a low BMI was seen in undernourished populations, and healthier BMI's reflected well-fed prosperous and harmonious living.  When a woman's BMI falls too low, nature takes over, and shuts down ovulation in order to protect a mother against the stresses of pregnancy during famine, as well as protecting a baby from malnourishment.  Having a little "baby fat" tells your body that times are stable enough with plenty to eat – good baby-making times.  At the other end are women with BMI's that are high enough that fertility becomes effected.  A high enough BMI  is reflected by a 50% decrease in fertility.
Luckily Traditional Chinese Medicine works even if you don't have an ideal BMI.  But saying that, when it comes time to have a baby, you may need to put some effort into living your life in a way that supports your fertility, through changes in diet, exercise and lifestyle.
To calculate BMI click here.  Bear in mind that BMI calculations are approximate because they don't take into consideration your natural body type.  But the BMI calculator is a good reference. There are three basic body morphologies but this calculator works as if you were middle of the road.  If you are naturally skinny, or your healthy body has more curves, these values will be approximate only.  Although it's not possible to change your basic body morphology, Traditional Chinese Medicine can help you to lose weight if your BMI is above 30, or increase your appetite if your BMI is below 19.
If you're not sleeping well, that's going to leave you in a state of physiological stress.  Women with insomnia have been shown to struggle with infertility at rates four times those of women who sleep normally.  Acupuncture and Traditional Chinese Medicine do a great job at improving healthy sleeping.  A consistent good night's rest will do wonders if you're sleep deprived.  Here is a link to the website for Tuck.com that describes the importance of sleep as part of a healthy lifestyle and how it impacts your fertility challenges along with effective steps that you can take home to manage your sleep better.
The goal is not to become "stress free".  That would be impossible.  The goal is to reduce your stress by any amount no matter how small or for how short a time, on a regular basis every day.  By doing this you're sending your body signals that it is a good and safe time to become pregnant and care for a new baby. Without your body's unspoken permission and cooperation, becoming pregnant becomes more of an uphill experience.
Stress Reduction is effectively managed by Traditional Chinese Medical Treatment.
I practice stress reduction through Acupuncture, Moxibustion and through Tui Na Chinese Medical Massage.  Specific powerful Acupuncture points are indicated for alleviating stress, anxiety, and poor sleeping.  Application of the heat generated by the burning of Chinese Moxabustion herbs sends healing warmth into your body's yang center, directly connected to the reproductive organs and the process of reproduction.  The warmth of Moxibustion is universally experienced as relaxing.  Tui Na massage moves the Qi and blood in your body, and improves hormonal balance and blood flow to the reproductive organs, in addition to freeing the blocked Qi in the meridians due to the experience of stress.
You have considerable control over what goes on with your body. When you decide that it is time to have a baby, there are plenty of simple things that you can do to reduce your stress and take care of yourself.  Think of it as homework, unless that stresses you out.  ( :
Extra Credit:  13 Things You Can Do
If you've made it this far on this page, I'm impressed!  But it's not over yet because I want to present to you a Western portrait of stress, how stress affects your fertility, and some things you can do outside of Traditional Chinese Medical Treatment to help yourself be more fertile in the face of stress.
When you experience stress your body assumes the physiological state of  "fight or flight", and your adrenal glands release cortisol, adrenalin and prolactin, all of which have the effect of shutting down healthy reproductive processes in your body.  Cortisol is known as the "Stress Hormone".  During long term unrelieved physiological stress the release of these three substances confuses the balance of your fertility hormones, thereby putting up roadblocks to your ability to conceive.
When stress is removed, cortisol, adrenalin and prolactin restore to restive levels and your fertility hormones can do their job unhindered.  Anything that you do that consistently and regularly reduces your stress, for minutes, hours or any time between will bring your stress hormone levels down, thereby sending signals to your body that it is a good time to become pregnant.
Here are a list of 13 things outside of Traditional Chinese Medical treatment that you can choose from, to reduce stress in order to lower Cortisol and improve your Fertility.